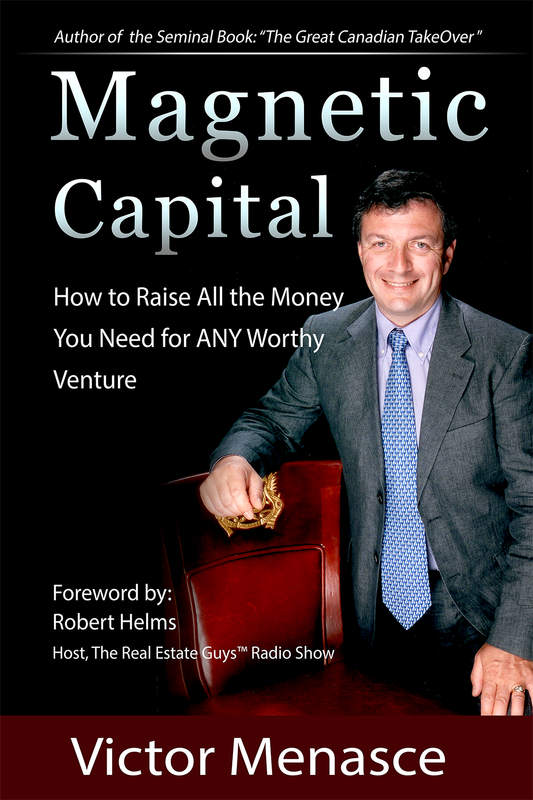 Magnetic Capital
How To Raise All The Money You Need For ANY Worthy Venture
Victor Menasce has raised several hundred million dollars for ventures, corporate buy-outs and real estate projects. As a fulltime real estate developer, he raises funds on a daily basis.
Many people consider raising money an inaccessible process that is reserved for Wall Street types who are a special superhuman breed that come from a different gene pool. Others believe that it's possible to raise money, but they feel uncomfortable asking for money, so they don't. Whatever your limiting belief, raising money is the one skill that unlocks you from the financial prison that's holding you back from achieving your goals. Conventional wisdom is that raising capital uses sales technique. Victor strongly disagrees. Nobody likes to be sold. His authentic approach appeals to investors and entrepreneurs who take fiduciary responsibility seriously.
This book is only $20.00, but the value is priceless.

Get it Faster (but not signed) from Amazon
Get The E-Book
A few people ordered the E-Book on Kindle immediately after it was released. The first edition had some formatting issues. If you experienced formatting issues on Kindle, try removing the title from your library and re-loading it with a fresh copy. If you still have problems, contact the author directly using the contact form on the website.
"The unwritten rules are now written."
If you're having trouble raising money, Victor will show you why, and show you what to do to fix it. These are the same principles I've used in my career. The unwritten rules are now written.
-George H. Ross, retired Executive Vice President, The Trump Organization
The Great Canadian TakeOver
How Savvy Canadians are Profiting Wildly from the Meltdown in US Real Estate
Real estate investor Victor Menasce believes that everyone can generate wealth from Real Estate, regardless of how much investment capital they have, and regardless of where they live. In the Great Canadian TakeOver he unveils the secrets that he has used to amass a real estate portfolio spanning three time zones in the US from his office in Ottawa, Canada.
"A Must Read"
The Great Canadian Takeover is a must read for anyone interested in real estate investing in the US no matter what nationality you are. Victor Menasce gives very understandable explanations of different real estate investors strategies with pros and cons of each, as well as examples. Victor does a fabulous job connecting the dots so that the reader who wishes to become a serious investor can [gain] a solid foundation.
-Dr. Victoria Eye, MD